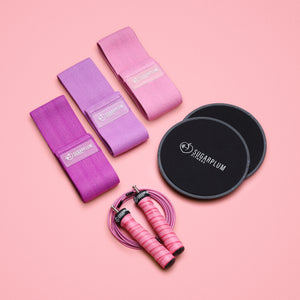 Introducing our Sugarplum Gym Essential Set! 
This set includes:
• 3 Fabric Resistance Bands (37 x 8 cm): 
◦ Light (15 lbs) - light purple
◦ Medium (25 lbs) - dark purple
◦ Heavy (40 lbs) - pink
◦ 
Carrying Bag for the Fabric Resistance Bands
• Speed Jump Rope
◦  Pink or Black Speed Jump Rope
◦ Carrying Bag for Speed Jump Rope
• Two Core Sliders
Our soft fabric resistance bands are made of high-quality fabric with rubber thread inside. These bands feature our non-slip design that will not roll up during your workouts and are super comfortable to use!
Build endurance and tone your body with this Speed Jump Rope. This high-quality Jump Rope features ultra smooth and fast rotations, a fully adjustable cable length, and non-slip handles. This is the perfect on-the-go accessory for a full-body cardiovascular workout!
A must-have accessory for abdominal workouts. Activate and engage your core with our Core Sliders. Our dual sided sliders work on carpets and hard floors.